Katsuro Kobayashi

(克郎小林水島 "Katsuro Kobayashi")

Debut

Appears in

The Immortals, Aki Ni Saku

Voice Actors

English

-

Personal

Birthdate

December 16

Gender

♂Male

Age/Status

28 (Deceased)

Height

-

Weight

-

Blood type

B-

Classification

Missing-Nin

Affiliation

Haka
Partner
Kekkei Genkai

Swift Release

Light Release

Rank

Ninja Rank

Jounin

Academy Grad. Age

8

Chūnin Prom. Age

10
Katsuro Kobayashi
Edit
Katsuro was a member of the new generation Haka.
Background
Edit
Katsuro's younger years were spent as a member of Kumogakure's anbu. From the age of 10 Katsuro took on many B-Rank to A-Rank Missions and eventually completed the most S-Rank Missions out of anyone on his unit. At the age of 19 Katsuro abandoned his village, and for years was simply a wondering ninja who aquired money doing odd jobs. At the age of 24 Katsuro became a member of the New Akatsuki. Little else is known about this man, he is the most secretive member of the New Akatsuki.
Personality
Edit
Quiet, Intelligent
Katsuro almost never talks, especially while on missions. This goes over well with his naturally relaxed parther Junichi. Katsuro is also highly intelligent, capable of at least matching wits with Shikamaru.
Appearance
Edit
Katsuro wears the standard New Akatsuki uniform,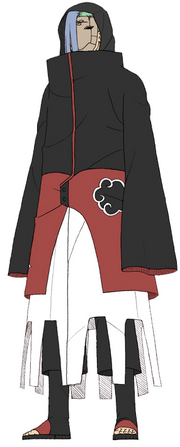 and a tanish mask with the kumo symbol slashed out. Katsuro's hair is mostly green with the exception of his light blue bangs.
Abilities
Edit
Kekkei Genkai
Edit
Swift Release
Swift Release is and Nature Combination of Lightning and Wind, or for elite Shinobi just advanced Wind control and grants the user the ability to achieve unbelievable speeds. Examples of this are moving at a high speed, and not suffering bodily damage or tunnel vision. It also grants the ability to see things slower than they actually are. This essentially makes Swift Release users invulnerable to Taijutsu.
Light Release (Borrowed in part from Princeharris1993)
Light Release is a unique kekkei genkai, it's style in itself not requiring the simultaneously use of two different elements. Its superior counterpart is Hyper Release, and users of this can control all radiation of the Electromagnetic Spectrum, including Visible Light.
The Users of Light Release can not only manipulate visible light, but can allow them to heal others as well, making them excellent users of Medical Ninjutsu.
Name: Katsuro Kobayashi
Age: 28
Clan: None
Birthdate: December 16
Former Affiliation: Kumogakure
Affiliation: Akatsuki
Ninja Rank: Jounin
Registered Ninja #: 0258387
Personality: Quiet, Intelligent
Height: 6'00
Weight: 134 lbs
Blood Type: B-
Favorite Foods: Unknown
Least Favorite Foods: Unknown
Hobbies: Drawing
Assignments Completed: 2 D-Rank, 8 C-Rank, 13 B-Rank, 4 A-Rank, 22 S-Rank
Chakra Natures: Lightning, Wind Kekkei Genkai: Swift Release, Light Release
Dying Scene: "COMING SOON"
Great Wall of Wind
Lightning Release: Festival of Carniage
Lightning Release: 10000 Volt Drop