Susumu Maruyama

(進丸山 "Susumu Maruyama")

Debut

Appears in

The Immortals, Aki Ni Saku

Voice Actors

English

-

Personal

Birthdate

October 31

Gender

♂Male

Age/Status

31

Height

-

Weight

-

Blood type

O+

Classification

Missing-Nin

Affiliation

Haka
Partner
Kekkei Genkai
Rust Release, Steel Release

Rank

Ninja Rank

Jounin

Academy Grad. Age

9

Chūnin Prom. Age

15
Susumu Maruyama
Edit
Susumu is a member of the new generation Haka.
Background
Edit
[WIP]
Personality
Edit
Cold-Blooded
[DETAILS WIP]
Appearance
Edit
[DETAILS WIP]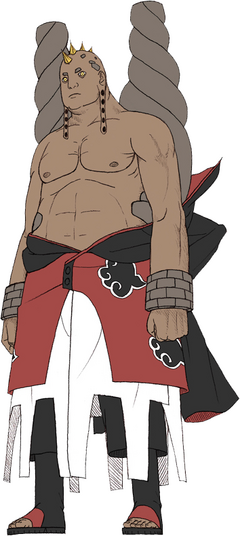 Abilities
Edit
Kekkei Genkai
Edit
Rust Release
The Rust Release is a powerful kekkei tōta that combines the Water, Wind, and Earth elemental natures. Techniques of this nature appear as a fine maroon-coloured dust created from chakra that cause rust and decay with everything they come into contact with. Being in dust form, the small particles can be difficult to see making them even deadlier if they can cloud up an area. The main drawback of Rust Release techniques is that they cannot be used to effect chakra-based objects without obscene amounts of chakra to back them up, rendering them useless against such things as clones
Steel Release
The Steel Release is an Advanced Chakra Natures that involves bending the users chakra into a physical shape around their body to enhance their own characteristics. The techniques once belonged to an unknown Shinobi clan who used it as a Kekkai Genkai. It is unknown how any current users learned the techniques unless they are a branch from the clan. There is also another form of Steel Release, where when using the Steel Release: Molecular Recomposition technique, the user can manipulate pre-existing metal with iron as one of the components and use the metal in a variety of ways.
Name: Susumu Maruyama
Age: 31
Clan: Maruyama Clan
Birthdate: October 31
Former Affiliation: Iwagakure
Affiliation: Akatsuki
Ninja Rank: Jounin
Registered Ninja #: IW-03637
Personality: Cold-Blooded
Height: 6'10
Weight: 327 lbs
Blood Type: O+
Favorite Foods: Okayu
Least Favorite Foods: Shabu-Shabu
Hobbies: Building Endurance
Assignments Completed: 1 D-Rank, 13 C-Rank, 1 B-Rank, 11 A-Rank, 8 S-Rank
Chakra Natures: Earth, Wind, Water
Kekkei Genkai: Rust Release, Steel Release
SUSUMU CANNNOT DIE, AS ONE OF THE ONLY MEMBERS WHO ARE IMMORTAL